Surge in coal imports has now forced Coal India Ltd (CIL) to start meeting power producers individually from today and find ways to help them reduce their dependence on imports.
"ln order to reduce imports, as advised by Ministry of Coal, one-to-one meeting shall be held with coal consumers for substitution of coal import in 2019-20," Coal India recently communicated to all those consumers, including power plants which have been importing coal.
Discussions would also be held with those who are even contemplating imports in the current financial year, CIL officials said.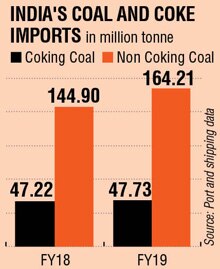 India's coal and coke imports during 2018-19 grew 8.83% to 233.56 million tonne (mt) compared to 214.61 mt imported in fiscal 2018, as per import data from 31 major and non-major ports.
Imports of thermal coal, mainly used in power generation, were up 13.25% at 164.21 mt in the last fiscal against 144.99 mt in the previous year, while coking coal import remained flat at 47.73 mt.
In March, thermal coal imports were 14.10 mt, against 13.53 mt in February 2019.
"Representatives of all the power utilities who are currently importing coal and or planning to import coal in FY20 are requested to make it convenient to attend the meeting," the CIL communique said.
CIL has been trying to encourage import substitution with domestic supplies at power plants, which so far hasn't been successful as imports have continued.
"It is learnt that some of the power plants having Fuel Supply Agreements with Coal India have not utilised this opportunity and are importing coal. Therefore, it is again requested that these power plants may apply to the marketing division of CIL for sourcing of domestic coal as a substitute for import by road mode from sources where coal is available with CIL," a letter issued by the mining major's marketing department in February said.
The initiative started in September of 2018 when coal as well as power secretaries started meeting with power producers to devise strategies to reduce
STEMMING THE TIDE


Discussions would also be held with those who are even contemplating imports in the current financial year


India's coal and coke imports during 2018-19 grew 8.83% to 233.56 million tonne compared to 214.61 mt imported in fiscal 2018


PROVIDING ALTERNATIVE


233.56 mt – coal and coke imports during 2018-19


214.61 mt – imports in fiscal 2018


14.10 mt – thermal coal imports in March


News Source: Dnaindia